Creative Music and Music Leadership
Matanel 'Creative Music' Certificate Program 

at Internal Compass Institute
The flagship program of Internal Compass, is a three year intensive program, in the Internal Compass Institute Campus in Mitzpe Ramon. During the three years, students focus on their musical skills: ear training, harmony, improvisation, composition and more.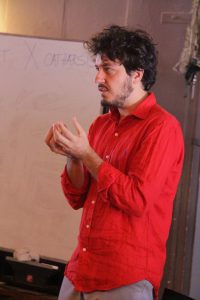 General Information​
The 'Matanel' Creative Music Program in Mitzpe Ramon will open its eighth year. This program is an expression of our values regarding advanced music education, and preparing our student for life as an international musician.


– The program is 3 years, in which you will receive a certificate upon gradutation.
– The year consists of two 12 week semesters.
– In addition to the 12 weeks of the semesters, there are two festivals, which are an integral part of the curriculum.
– Visiting Artist program, which brings top musicians from all over the globe to work with students and perform for multiple times per year.
Music as a language
In our view, music studies should be based on music as a language and impart skills based on this assumption. Like any language – we strive to impart reading and writing skills (processing, orchestration and composition), comprehension (hearing development and musical analysis) and expression (improvisation and creation).
​
Preference for skills over knowledge
Music is an endless field of knowledge, which includes in-depth and extensive knowledge in many fields. In our view, in order to deepen musical knowledge, full mastery of musical skills is required. This mastery is acquired over years of work, and we strive to give students the tools to develop these skills as part of their studies and beyond.
Global approach
We believe that music, like medicine, education and science, should exist in a space without borders. In line with this approach (and unlike other institutions and programs), we approach music from an international perspective, not a local perspective. This means that the chosen repertoire, the guest artists, the concerts, and the material studied for the most part are drawn from the world of international music and not local.
Practical approach to music studies
Because our emphasis is on skills development, the school takes a practical approach when it comes to studies – and strives to see its students engage in practically musical activities throughout their studies. The studies in the program include practical and direct experience in playing and creating, and students appear from the first week
Core Courses
These courses include the most basic musical skills like ear training, harmony, keyboard skills, rhythm etc.


Electives
These courses are taught by the various teachers in the program and vary from year to year, in diverse areas such as music history, studio production, improvisational skills development and more.


Private Lessons
Students study with private instructors once a week. Often students study with instructors based on instrument, but also choose an instructor based on other needs such as improvisation, technique, sound, etc.


Practical Courses
These courses include the ensembles, concerts produced by the students, Concerts in collaboration with guest artists, project week, various festivals and a year-end recital.
Contact us anytime about admissions